I recently joined the Ludum Dare game jam for the first time and since it seems to be almost mandatory I want to write a quick post mortem for my entry 'Triangle Command'.
Ludum what?
Just in case you don't know what Ludum Dare is about: It is an event that takes place every 3 months or so where everybody can join to create a game for a given theme. Ludum dare features two modes: the compo and the jam. The compo is the more strict version where you have 48 hours time, must work alone and can only use the stuff you make in those 48 hours (with some exceptions I believe).
The jam is more loose. You get 72 hours time, you can work in a team and you can reuse stuff you made prior to the event.
The idea
The theme for the event is selected in several "theme slaughter" rounds where everyone can vote for their favorite theme. In the end the theme for this Ludum Dare was 'The more you have, the worse it is'.
48 hours (or 72 hours) is not really much to create a complete game and given the fact that humans have to sleep, eat and other stuff you got even less time. Due to real life obligations I figured that I could spend something like 8 hours maybe. So I needed something simple.
I came up with the idea of a side scroller with a very minimalistic design. Since I am not good at creating visuals for games, that minimalistic design approach was not really a choice – I just didn't have any other option. So I created all of the "art" for my game within 10 minutes or so.
Here is a short gif showing my game: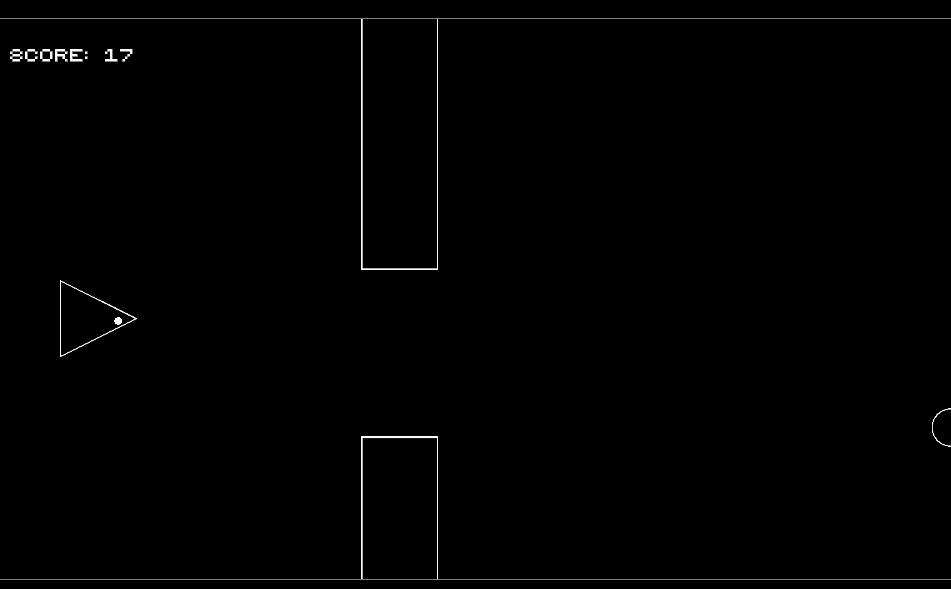 So your task is to avoid the obstacles. You can collect the circles ('energy pellets') by shooting at them. This will make you faster and therefore make the game harder but it also increases your score faster. If you are going too fast, you can also dump an energy pellet.
Developing the game was pretty straight forward without running into any major problem. It took about 8 hours including graphics, programming, sound effects, music and publishing the game.
Ratings
I didn't expect my game to get high ratings but I have to admit that I was a bit disappointed when the results where available. Here are the ratings for my game:
Overall: 607th (2.78 average from 27 ratings)
Fun: 585th (2.7 average from 27 ratings)
Innovation: 608th (2.438 average from 26 ratings)
Theme: 379th (3.36 average from 27 ratings)
Graphics: 624th (2.28 average from 27 ratings)
Audio: 334th (2.917 average from 26 ratings)
Humor: 541st (1.765 average from 19 ratings)
Mood: 591st (2.341 average from 24 ratings)
In total there where 2890 submissions, so obviously I could have done much worse. And given the fact that I couldn't put much time in it I am still somewhat satisfied.
Final thoughts
Being "forced" to create a game within such a small time frame was really interesting. You have to strip down your game to its minimal required features and you learn a lot about scoping I guess. Also in the end you created a complete game which is pretty cool I think.
I will try to join the next Ludum Dare and come up with something more innovative and more fun.
Link
The project page contains everything related to this game.